Let's take a white 2006 MacBook. Even if it has a Wi-Fi 802.11n, it offers neither Airdrop (new feature in Lion) nor Wake On Demand via Wi-Fi (to wake up the Mac via Wi-Fi). What about changing the card ?
En français.

I tried, it works partially. I installed a Broadcom BCM4322-based card bought on eBay for $ 15 (shipping included), to replace the original Atheros card and it worked. I will not give the details of disassembly (iFixit is here for that) : the only thing to know is that the original card had three antenna outlets and the new one only two.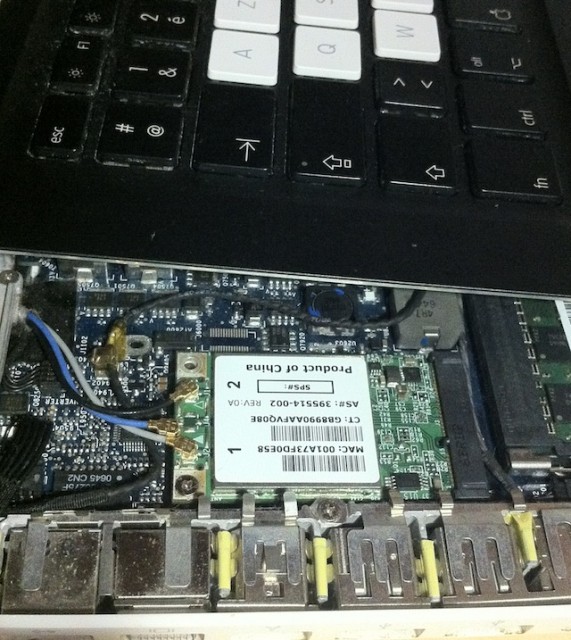 Si vous parlez français, une version plus compréhensible est disponible.
In the end, the reception is the same (300 megabits/s in 5 GHz, 130 Mb/s in 2.4 GHz) but Airdrop is usable on the new card, which was our purpose. However, Wake On Demand via Wi-Fi is stillnot available, but it does not really matter.
Forward : we notice that the card is recognized as AirPort Extreme.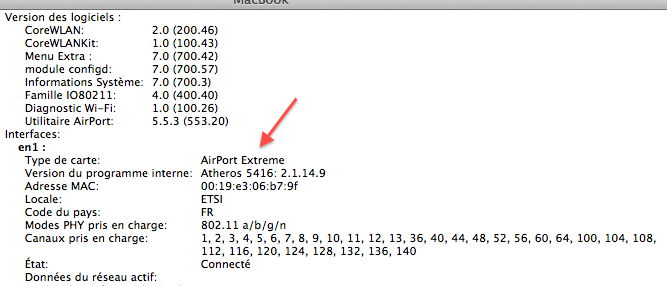 Aftewards : please note that Airdrop is well managed and that the card is not recognized as an Apple one, which in practice does not seem to change anything.
If you want to correct this small cosmetic issue, I will explain how to change the card in another article.

For those who want to try, just buy a card BCM4322 on eBay,it can be found easily. The card is compatible with (at least) the black and white classic MacBook, MacBook Pro aluminium (not Unibody), the Mac mini Intel with GMA950 (not GeForce), some Mac Pro and some iMac. Be careful, only « full size » cards are compatible, the « half size » cards do not work.