As this issue os often misunderstood, I will expose the difference ( and also similarities ) between Thunderbolt and Mini DisplayPort.
En français.

Thunderbolt is fully compatible with Mini DisplayPort peripherals . Technically, the plug is the same and the only difference is that the Thunderbolt connector can carry – in addition to the classic Mini DisplayPort – a Thunderbolt signal, which is a signal PCI-Express (4 lines).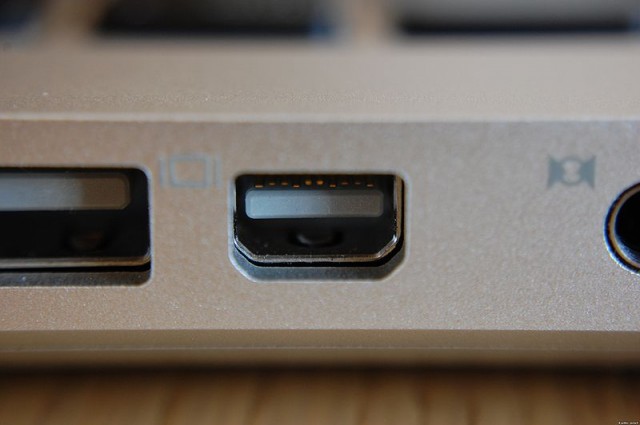 Specifically, a Mini DisplayPort adapter runs on a Thunderbolt plug.
However, there are some differences.
On the first generations of Mac equiped with Mini DisplayPort (MacBook Pro 2008/2009, etc), the sound is not transmitted on Mini DisplayPort. This is a limitation due to the motherboard. The Mini DisplayPort HDMI adapters and the 27 inches Apple Cinema Display screen can not receive sound on this type of machine.
For the sound, you need a MacBook Mid 2010 (GeForce 320M), a MacBook Air 2010 11-inch or 13-inch (Core 2 Duo), a MacBook Pro 2010 13-inch (GeForce 320M), a MacBook Pro 2010 15-inch or 17-inch (GeForce 330M), a Mac mini 2010 (Core 2 Duo), an iMac 2009/2010 21-inch, an iMac 2009/2010 27-inch, or a Mac Pro 2010 (please note that changing the graphic card does not bring the sound). It works with all the 2011 or 2012 models.
Of course, all Thunderbolt machines carry the sound on Mini DisplayPort.
Concerning the screens :
The 27-inch Thunderbolt screen only works on a Thunderbolt Mac.
The LED Cinema Display 27 inch screen works on all Macs on Mini DisplayPort or Thunderbolt. The only thing to know is that the sound will come on USB on older models, which is not a problem.
The LED Cinema Display 24-inch screen works on all Macs on Mini DisplayPort or Thunderbolt.
Last but not least, the Target Display mode.
This is the only time when Thunderbolt is a real problem. With a 27-inch 2009 or 2010 iMac, it is possible to use the Mini DisplayPort output as an input : plug a Mini DisplayPort cable between the iMac and the other Mac, and use the first one as a screen. The same adapters allow you to connect an HDMI source on an iMac.
With the Thunderbolt, it no longer works. You may use an old iMac as a screen on a recent Mac, but not a recent iMac. Actually, the 21-inch and 27-inch 2011 and 2012 iMac are « Target Display » but only on Thunderbolt. And only with the Apple Thunderbolt cable. HDMI adapters do not work (yet) on iMac 2011 or iMac 2012.
I hope everything is clear, if not you may ask your questions in the comments.